Patient-centric,
cloud-based workflows.
Increasing the efficiency of healthcare services helps provide more patients with better care, and improves healthcare economics. When medical imaging information 'follows the patient', and is available at the patient's point of care, anywhere and anytime within his or her care network, in any treating facility, at any care level, the results are truly transformational.
Building on the foundation of traditional medical imaging services, innovative cloud-based approaches incorporate all the diagnostic capabilities of their PACS predecessors, while introducing powerful new ways to share, diagnose, collaborate, and archive medical images. PACSonWEB represents the logical next step in the evolution of medical imaging, empowering all users across the complete care network, from patients to specialists, from the physician's office to the regional healthcare facility.
The PACSonWEB cloud platform enables full PACS functionality on any device that's connected to the internet, optimising medical imaging workflows with access to medical imaging results at any point in the patient's care journey.
Diagnose anywhere, anytime
Full PACS functionality anywhere, anytime on any device connected to the internet.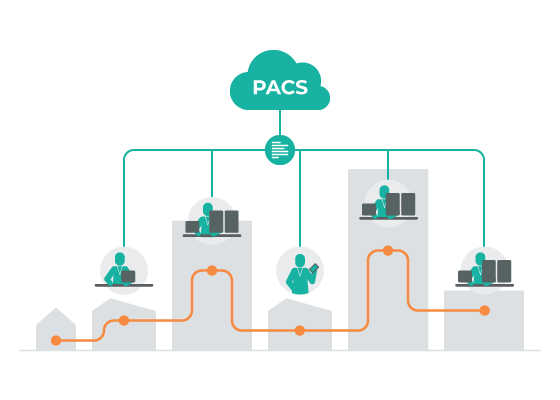 With PACSonWEB, images can be interpreted, diagnoses made and reports submitted from anywhere, untethering medical professionals from their PACS workstations and opening up new opportunities for working from an offsite office or from home, for the virtual pooling of radiologists, or for teleradiology.
Home and emergency reading
With full PACS functionality at their fingertips, and an easy-to-use Dobco-developed app (available for iOS and Android), medical professionals can use their smartphones or tablets to dictate a diagnostic report using voice recognition in the local language, which is automatically added to the study, and a full report is sent to the RIS of the hospital where the exam was performed. This function enables a much more efficient response to emergencies, for example, than communicating the radiologist's findings via telephone to the emergency doctor. The emergency report is immediately available in the medical file as a provisional report, along with evidence of the radiologist's findings.
Teleradiology
With PACSonWEB, setting up teleradiology services is straightforward, including diagnostics, reporting with speech recognition and easy routing between PACS and RIS systems, including reconciliation of metadata where necessary.
Safe, secure integrations with Artifical Intelligence applications & tools
As more Artificial Intelligence (AI) tools emerge in healthcare, ensuring a safe and secure integration with a hospital's other applications becomes critical. Many AI tools are powered by data centres that belong to the AI supplier, so are not under the control of the healthcare institution. To prevent patient information being sent to these cloud solutions – which are often not ISO 27001 certified – PACSonWEB acts as a switch and pseudonymisation engine, ensuring that no sensitive data is communicated and the end customer does not have to make any integration/data processing agreements with the vendor in question.
PACSonWEB manages the integration of the PACSonWEB solution with the AI solution, ensuring that all workflows are managed optimally, saving time and costs for the hospital/radiology department.
Collaborate in a care network
Smooth exchange of images and insight.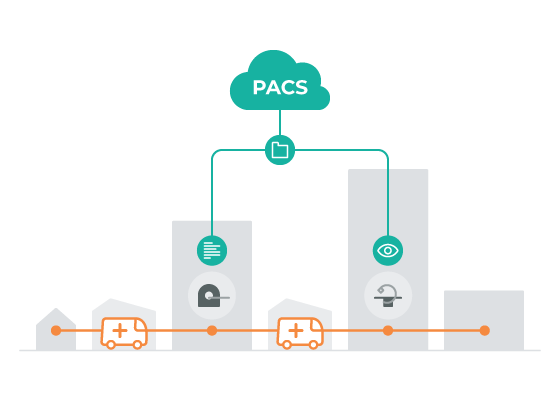 Customisable workflows
Workflows can be set up so recipients can choose to import the images into the local PACS manually or automatically. Studies can always be consulted first in a web browser before being imported. The PACSonWEB Import Client ensures the automatic import of the studies into the local PACS system. The recipient can use the PACSonWEB web interface to select which exams should be forwarded and can link these exams (optionally) to a local DICOM Worklist. The exams (or studies) get the label "imported" into the PACSonWEB interface for this user so that the recipient always keeps the overview.
Faster treatment for acute care and stroke patients
When time is critical, PACSonWEB provides fast, smooth image sharing to relevant specialists and care providers, no matter their location. In the case of a stroke patient, after the first image examinations (CT with/without perfusion), an assessment must be made by a radiologist and neurologist as to whether to treat the patient locally with blood thinners (thrombolysis) or whether interventional treatment (thrombectomy) is required. The transfer of the first images to the specialised centre is therefore critical. PACSonWEB plays a key role by inserting these studies directly and automatically to the PACS of the specialised center with absolute priority, so that the interventional team already has the images before the patient goes into transport.
The smooth image flow continues when patients move from acute to longer-term care, such as the hospitalisation of a stroke patient, or when a patient returns home after orthopaedic surgery, when medical imaging results are quickly and easily shared to their new care team.
Support for research: easy anonymisation and option to assign values to DICOM tags for structured research
PACSonWEB makes it simple for a university hospital or any other medical institution where clinical/scientific research is being conducted to anonymise or pseudonymise medical imaging studies, and then share or route them to an external destination, offering several tools to manage this process.
Certain DICOM tags can automatically be changed with certain values, which makes structured scientific and/or clinical research easily possible. Moreover, the user has the possibility to manage and compose "schemes" to automate this process (e.g. he/she can choose which fields get which values).
Thanks to efficient image exchange, the full reconciliation of study metadata is possible.
Archive in the cloud
Guaranteed service at a predictable cost.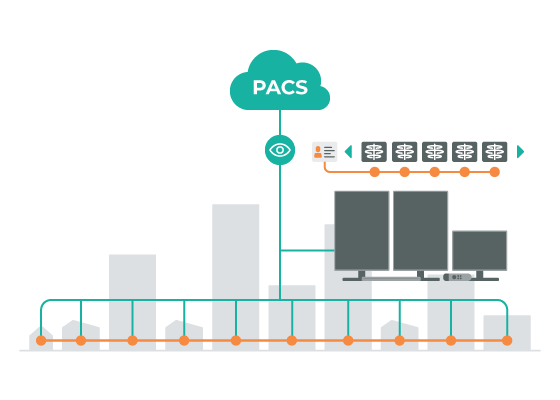 PACSonWEB Archiving Service
Featuring a lower TCO, the highest levels of security and guaranteed back-up and availability of all data, the PACSonWEB Archiving Service in the Cloud is a worry-free solution for archiving medical images. Offered as a Solution as a Service (software, back-end hardware and services included), it requires only a local cache, and provides intelligent fetch-back of data.
Compared to local storage based solutions, which are more expensive to purchase and maintain, and involve migration costs after a few years, PACSonWEB Archiving Service in the Cloud offers a much lower TCO. Delivery after the contract of all data with fully updated DICOM header enables fast migration to a new PACS/VNA archive, without the need for DICOM Query/Retrieve (Q/R).
Consolidated patient timeline
The local PACS workstations for radiologists can unlock a second DICOM archive that contains the complete PACSonWEB archive, providing fast, easy access to priors. Authorisation happens in the background and is country- or region-specific. It allows the radiologist to pull up priors of any hospital that is connected to PACSonWEB and compare them, saving time and leading to better diagnosis and avoid doing an unnecessary retake of an exam.
Try it for yourself!
Take the next step, and try it out for yourself.
See the future of medical imaging first-hand, with a full working demo of PACSonWEB.
Try it now