Patient-centric cloud platform for medical imaging.
Improve and integrate your radiology workflows, with less effort. PACSonWEB makes work easier for 35.000 careproviders.
Medical imaging services at the heart of the patient's care network.
PACSonWEB takes medical imaging beyond Enterprise Imaging, and provides full PACS functionality anywhere, anytime, on any device connected to the internet. Imaging studies are archived in an off-premise cloud infrastructure, available for any authorised care provider, authorised by the patient.
It's the logical next step for medical imaging – putting medical imaging services at the heart of the patient's care network, on a powerful and secure cloud-based platform.
Discover our cloud-based workflows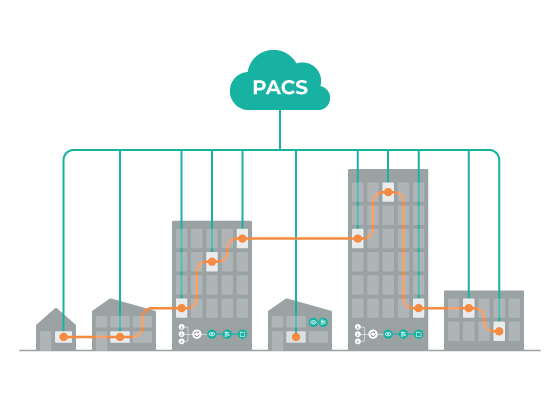 Convenient, reliable & hassle-free PACS, anywhere, anytime, on any device connected to the internet.
Featuring an easy-to-use, high-quality digital user experience, the PACSonWEB cloud platform provides all users across the care network with the right functionalities and intuitive tools to optimise their workflows, regardless of the underlying technology or legacy systems. No software installation is needed to view high-quality DICOM lossless images via any browser on any device connected to the internet. Imaging results are available sooner and are easier to consult, improving patient care and streamlining the services offered to referring physicians and specialists.
Discover more about the potential of PACSonWEB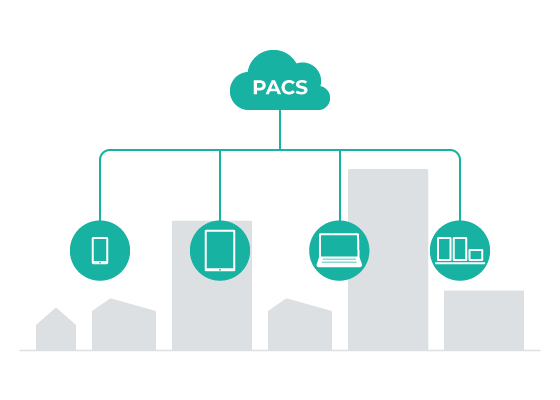 Fully compliant & secure,
at a predictable, lower cost.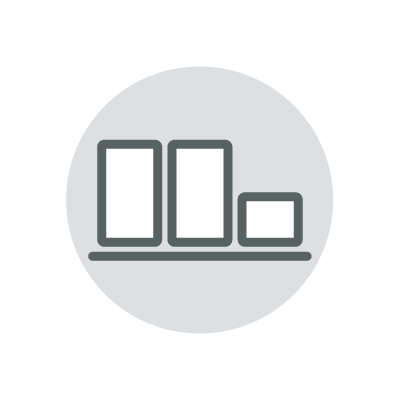 Since it's built on a cloud platform, the PACSonWEB solution is guaranteed to be up-to-the-minute when it comes to security and compliance, as well as offering continuous innovation of the platform. The Tier 4 off-premise infrastructure of PACSonWEB is continuously updated and 24/7 monitored, safeguarding your data assets and keeping your compliance practices in line with regulatory requirements and privacy standards.
Learn more about the technology behind PACSonWEB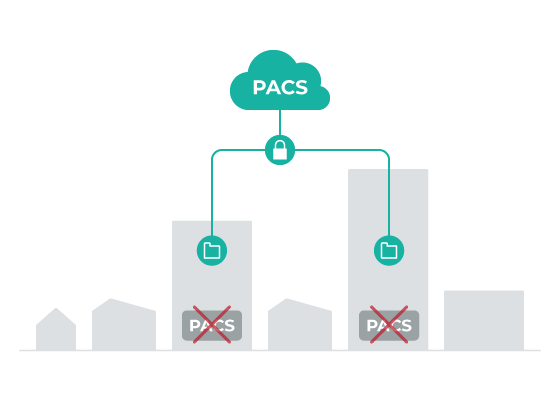 0 medical imaging departments
0 thousand logins per month
0 million studies per year
0 million images processed per day
0 active countries
Future- and
region-ready PACS.
To fully optimise patient care paths and maximise the benefits of sharing resources across care networks, medical imaging workflows need to expand beyond the radiology department, and create wider networks that cover regions, and even nations, to offer patients the best possible care at an optimal cost to society.
PACSonWEB offers a growth path to a fully patient-centric, regional PACS, providing a regional / national solution to provide a unified layer.
In the first stage, PACSonWEB can act as an added cloud layer to your existing PACS system. At a later stage, it can replace your PACS while still offering all the functionalities required, allowing you to expand and share your PACS environment to other facilities – all without costly upgrades or installations.
PACSonWEB allows for the integration of content and applications from different vendors, including emerging technologies such as quantitative imaging, 3D visualisation or AI.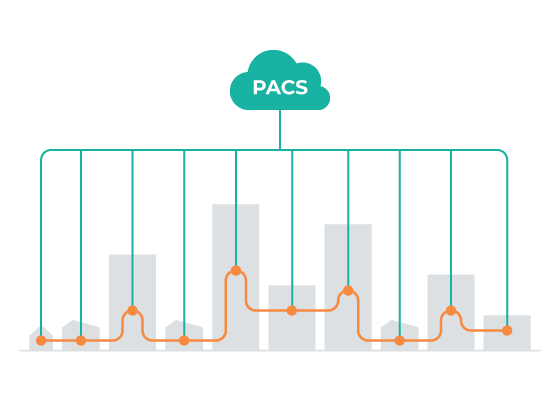 DOBCO Medical Systems is an expert in the field of PACS in the cloud. Communication is very easy and agreements are respected. Perfect!
Peter Van Hoye
ICT Director SJK Bornem
PACSonWEB is extremely user friendly, fast and easy to operate, all for the benefit of the patient, the referring physician and the radiologist / medical imaging department. Moreover, PACSonWEB has a zero footprint and reduces costs. What more could you ask for?
Dr. Annick Demeyere
Head of the radiology department, Imelda Hospital in Bonheiden
Whitepaper
Why it's time to switch from a local healthcare IT system to a true cloud solution
Learn why healthcare organizations are ditching fragmented on-premise systems for the agility and flexibility of a true cloud solution.
This paper explains:
How cloud-based services harness software, knowledge, and service to achieve proven results
How a safe, secure, and easy-to-access cloud model can help your healthcare organization thrive
How the evolution of health IT, from software to cloud-based services, will ultimately improve healthcare
Why the cloud can be the most secure model because it can scale for the highest level of security protocols
Try it for yourself!
Take the next step, and try it out for yourself.
See the future of medical imaging first-hand, with a full working demo of PACSonWEB.
Try it now