Full PACS functionality anywhere, anytime, on any device connected to the internet.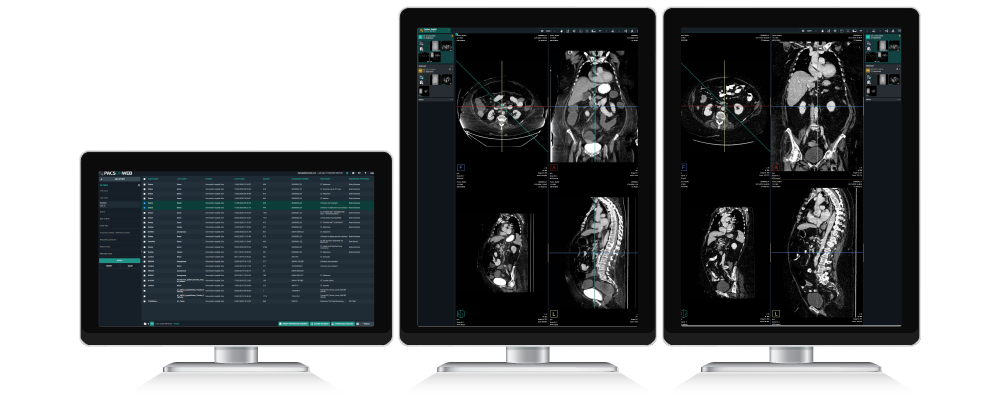 Simply tap into the cloud.
Because it's cloud- and web-based, implementation of PACSonWEB is simple and straightforward. There's no need for a lot of infrastructure at your location, no storage or software contracts to worry about, separate viewers or systems for different image workflows are not required, and no support is required from your IT department.
Don't install,
connect.
The management tasks involved in running a PACS (typically shared between radiology and IT) are either eliminated or greatly reduced. To implement PACSonWEB, we simply install a gateway to connect your organisation. You don't need any specialty viewers, servers, or software contracts. No software installation is needed to view high-quality DICOM lossless images via any browser on any device connected to the internet. And you never have to worry about upgrades or system maintenance. You're connected to the only version there is, and it's always updated.
Single system,
single viewer.
PACSonWEB is a single system, with a single web viewer. You don't need a different viewer for physicians, for example, or a different system for distribution. Implementation costs are greatly reduced because we don't have to install a PACS system – we simply connect the hospital to the cloud-based centralized PACS. In addition, you pay only for the applications and storage that you need.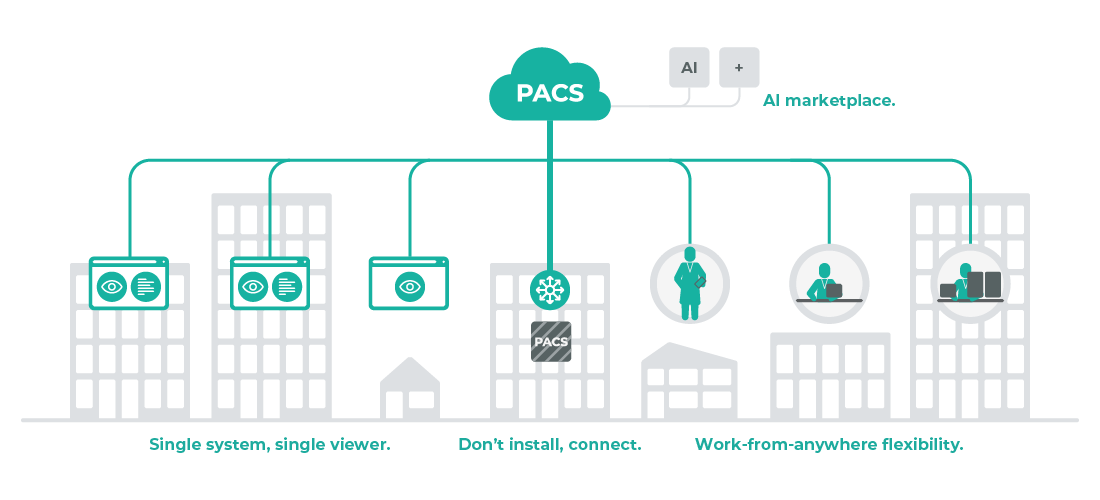 Work-from-anywhere flexibility.
Offering an easy, enjoyable user experience, PACSonWEB provides all the standard radiology tools you need, including smart hanging protocols, MIP/MPR functionality, mammo reading, and annotations and measurements, available across all your devices and screens. In addition, with PACSonWEB you can use your smartphone as a speech mike, e.g. for when you're reporting somewhere outside of the hospital.
AI marketplace.
PACSonWEB features best-of-breed integrations, including any Artificial Intelligence applications that you require, such as Icometrix (a cloud-based AI solution to quantify disease-specific brain structures on MR and CT), BoneXpert (an AI for automated bone age estimation), Aidence (an AI application improving reporting in the treatment of lung cancer), and many others. And just as in a central app store, all integrations, updates and upgrades are managed centrally, eliminating local implementations and ensuring that all of your applications are always up-to-date and on-the-fly available.
Are you a patient?
Then you probably want to consult your results.
You can log into our PACSonWEB portal by clicking on the button below.
Click here to consult your results
Try it for yourself!
Take the next step, and try it out for yourself.
See the future of medical imaging first-hand, with a full working demo of PACSonWEB.
Try our demo